Flight details
Pau
15/01/2019
14:00 (estimated)
Direct Flight
Duration : 01:30
1 seats
left out of 1
Flight details
Type of journey : Local Flight
Type of flight : Fine weather flight (VFR)
Departure time : 12:30
Expected time of arrival : 14:00
The Pilot can pick you up by car : Yes
Locavions Aero Services, Rue Saint-Exupéry, Sauvagnon, France
Flexible departure time ? : + or - 30 minutes
Check-in time : 12:00
Maximum luggage weight : 11 Lbs
Expected response time : Manual < 3 hours
Light Sport Aircraft details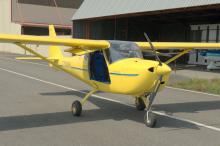 Model : FK9
Brand/Manufacturer : FK
Cosiness : Standard
Numbers of flight hours as captain on this aircraft : 200 Hour(s)
Number of flight hours as captain on this Aircraft for the last 3 months : ----------- Hour(s)
Learn more
More information
Discovering the mountains is a thrilling experience and I invite you for this one hour flight to see the jewels hidden in the vallees nearby Pau. We will first check weather conditions en route and in the mountains and will carry out a flight to see lakes, ski resorts, mountain railway, dolines rocks, huts et much more. Get ready !

Warning: This flight is not a commercial flight, your flight can be canceled.
Example: for weather reasons.
For more information, please see the FAQ here.
Public questions
Ask the pilot your questions before booking a seat !
Bookings
Pau

Departure at 12:30

Duration of the flight : 01:30

Arrival at 14:00
Pilot
---
Type of pilot :
Ultralight Pilot


---
E-mail (checked)
Phone number (checked)
Identity (checked)
License Ultra/Micro Light Pilot licence (checked)