Flight details
Montpellier
12/01/2019
17:30
Montpellier
12/01/2019
18:30 (estimated)
Direct Flight
Duration : 01:00
3 seats
left out of 3
Flight details
Type of journey : Local Flight
Type of flight : Fine weather flight (VFR)
Departure time : 17:30
Expected time of arrival : 18:30
The Pilot can pick you up by car : No
Flexible departure time ? : No flexibility
Check-in time : 17:15
Maximum luggage weight : 11 Lbs
Expected response time : Manual < 3 hours
Plane details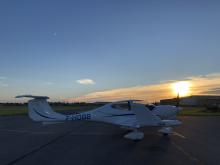 Model : DA 40 NG
Brand/Manufacturer : Diamond
Cosiness : Cosy
Numbers of flight hours as captain on this aircraft : 75 Hour(s)
Number of flight hours as captain on this Aircraft for the last 3 months : ----------- Hour(s)
Learn more
More information
Coucher de soleil et atterrissage de nuit! Nous décollerons avant le coucher du soleil pour une promenade le long de la côte voire jusqu'au Lac du Salagou si vous le désirez, et atterrirons de nuit sur la piste principale illuminée.

Warning: This flight is not a commercial flight, your flight can be canceled.
Example: for weather reasons.
For more information, please see the FAQ here.
Public questions
Ask the pilot your questions before booking a seat !
Bookings
Montpellier

Departure at 17:30

Duration of the flight : 01:00

Arrival at 18:30
Pilot

---
Type of pilot :
Private pilot


---
E-mail (checked)
Phone number (checked)
Identity (checked)
License PPL(A) (checked)
Medical Certificate (checked)